One of the culinary world's most celebrated figures, Tom Colicchio is the lead judge for Bravo's Emmy and James Beard Award-winning culinary series Top Chef All-Stars and also serves as mentor to the competing chefs on the series, guiding them through their various challenges (More Info...)


Gail Simmons lends her strong culinary expertise as a judge and critic for Bravo's Emmy Award-winning series Top Chef, tasting and critiquing the competing chefs' creations each week. Gail is also the host of Top Chef: Just Desserts, Bravo's pastry-focused spin-off of the Top Chef franchise, and a regular judge on Top Chef Masters. (More Info...)
Hubert Keller competed on Top Chef Masters season one and also served as a judge on Top Chef Just Desserts. A Frenchman classically trained by France's top chefs, Hubert is one of America's most widely recognized and acclaimed chefs. His world-renowned restaurants, Fleur de Lys San Francisco and Fleur by Hubert Keller in Las Vegas, feature Hubert's contemporary French cooking accented with Mediterranean flavors. With his palate attuned to America's evolving tastes, Hubert launched his wildly popular Burger Bar restaurants in Las Vegas, St. Louis and San Francisco. He has won numerous awards, including the James Beard Foundation's "Best Chef: California," and has been elected to the Foundation's prestigious "Who's Who in Food and Beverage." Food & Wine magazine tapped Hubert as one of the "Ten Best Chefs" in America, and Restaurants & Institutions gave him the "Ivy Award." Hubert has cooked for several United States presidents and was the first guest chef invited to the White House to personally prepare a sophisticated menu for President Clinton and his family. He was dubbed a "rebel with a Cuisinart" in the New York Times for his early championing of original, multi-course, vegetarian menus in a 4-star setting, and consistently cooks with a light hand and an eye on health. In addition to developing recipes for inclusion in Dr. Dean Ornish's best-selling cookbook, "Eat More, Weigh Less," Hubert has written his own cookbooks, including "The Cuisine of Hubert Keller" and "Burger Bar, Build Your Own Ultimate Burgers." His new cookbook "Souvenirs, Memories, Stories and Recipes from My Life," written with Penelope Wisner, will be released October 30, 2012.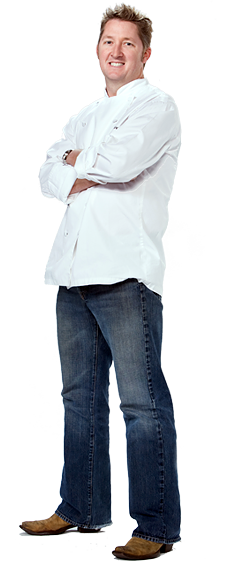 The unofficial mayor of Fort Worth, TX, Tim Love has become a nationally recognized culinary personality, known as much for his freewheeling personality as his signature urban western cuisine. As chef and owner of The Lonesome Dove Western Bistro and The Love Shack in Fort Worth, he's as comfortable cooking for the Dallas Cowboys as he is for his own kids, and his inspired and innovative dishes have earned critical and popular acclaim. Love opened The Lonesome Dove Western Bistro in 2000, and the restaurant has consistently achieved the highest Zagat rating of any restaurant in the Dallas/Fort Worth region. In 2007, Love opened a classic burger joint called The Love Shack - a casual outdoor spot adjacent to The White Elephant Saloon, another Love property, in the historic Fort Worth Stockyards district. The Love Shack earned three stars from The Dallas Morning News, was singled out as having the "most perfect burger on the planet" by The Fort Worth Star - Telegram, and was named by CondeNast Travelers as a 2008 Hot List restaurant. Through his restaurants and his work in the community for the state of Texas, always doing his fans proud. When he's not busy working in the kitchen or developing his line of cooking products, Love can be found spending time with his wife Emilie and their three children.
CHEF'TESTANTS
RICHARD BLAIS
After Richard Blais fell short as a finalist on Top Chef: Chicago season four, he came back with a vengeance and ultimately won Top Chef All Stars season eight. Richard will next be seen in "Life After Top Chef," where cameras will follow beloved former chef`testants outside the "Top Chef" kitchen. Known for his innovative and personal take on classic American bistro cuisine, Richard has studied under luminaries such as Thomas Keller, Daniel Boulud and Ferran Adria. A native New Yorker, he relocated to Atlanta in 2000 to oversee a local seafood concept and later founded his creative culinary company, Trail Blais, which has consulted on, designed and still operates some of Atlanta's most popular eateries including multiple locations of Flip Burger Boutique and HD-1. He recently opened The Spence, also in Atlanta, to critical acclaim and is gearing up for the launch of his first cookbook, "Try This At Home: Recipes From My Head to Your Plate," with Clarkson Potter in February 2013. Richard believes cooking is an art; he incorporates global ingredients, modern cooking methods, wit and a sense of humor to all of his food. He currently resides in Atlanta with his wife Jazmin and their two daughters.
Chris is the Chef de Cuisine for Whist restaurant at the Viceroy Hotel in Santa Monica. Born in a small town in Ohio, Chris decided he wanted to venture into larger cities to follow his culinary passions. He attended Johnson &Wales University in both Norfolk, Virginia and Providence, Rhode Island where he received his Bachelors of Science degree in Culinary Arts. From there, he journeyed to California where he trained with his chef mentor Tony DiSalvo, former Executive Chef at Jean Georges in NYC. Chris incorporates Italian, Asian, and Spanish influences in his cooking, but never loses sight of the customer's culinary journey. His focus is on flavor, texture, whimsy, and creating the most memorable dining experience possible. If he were given a last supper, he says, "It would have to include biscuits and gravy, to honor my southern roots. Who doesn't have a guilty pleasure of eating a plate of biscuits and sausage gravy?"
Tiffany Derry first competed on Top Chef: DC season seven, for which she was awarded "Fan Favorite," and came back for a second chance to compete on Top Chef All Stars. A Beaumont, Texas native, Tiffany began her culinary career at the local International House of Pancakes. Though not the most glamorous job, she quickly worked her way up within the company, becoming the youngest person to hold a management position at the age of 17. Upon high school graduation, Derry went on to hone her culinary techniques at the Art Institute of Houston, where she finished at the top of her class, followed by stints in esteemed kitchens throughout Houston and Dallas. Currently serving as Executive Chef and Co-Owner of Private|Social in Dallas, Tiffany is also expanding her culinary expertise beyond the kitchen with Tiffany Derry Company (TDC), which she founded with digital media and entertainment entrepreneur, John Huffman IV. She is also a national spokesperson for the Art Institute's Culinary Arts Program and Sargento Cheese.
Chris Hanmer won Top Chef: Just Desserts season two. His culinary career has steadily progressed from peeling potatoes at a country club at age 15 to claiming a gold medal as the youngest-ever American chef to win a World Pastry Team Championship. In 2006, he became the executive pastry chef for the Ritz-Carlton Lake Las Vegas, and in 2010 opened The School of Pastry Design, where he is currently living out his lifelong dream of sharing his passion for pastry. His spectacular sugar sculptures and chocolate showpieces have graced the pages of major global food magazines and on many broadcast outlets. When not creating exquisite, edible works of art, Chris may be found at home cooking dinner with his wife and young daughter.
Mike Isabella competed on Top Chef: Las Vegas season six, and when he came back to compete on Top Chef All Stars, he lost the championship title by a hair in the final round. Born and raised in New Jersey, Mike currently operates two restaurants in Washington, DC - Graffiato, an Italian-inspired small plates restaurant, and Bandolero, a modern Mexican concept. In September, he published his first cookbook with Da Capo Lifelong Books, titled Mike Isabella's Crazy Good Italian. Mike's formal training began at The Restaurant School in New York, taking classes and cooking his way through some of New York City's finest establishments. He honed his culinary skills up and down the East Coast, working under James Beard award winner Douglas Rodriguez at Alma de Cuba, Jose Garces at El Vez, Marcus Samuelsson at Washington Square, Jose Andres at Zaytinya, a host of Stephen Starr restaurants and Buckhead Life Group's top-notch Greek restaurant, Kyma. Mike has had the opportunity to travel around Greece and parts of the Middle East, where he learned the nuances of Mediterranean cuisine and formed the base for his culinary imagination. In 2012, Mike was named Food & Wine magazine's People's Best New Chef Mid-Atlantic. In 2013, Mike plans to open his third and fourth DC restaurants - Greek concept, Kapnos, and Italian sandwich shop, G.
Kristen currently works as Chef de Cuisine at Stir, a Barbara Lynch entity that serves as the company's epicenter of education. Stir hosts demonstration dinners seven nights a week featuring a revolving menu that showcases different styles of cooking, cuisines and regions. Previously, Kristen worked as Chef de Partie for Michelin starred Chef Guy Martin at his Boston restaurant, Sensing. Kristen's personal style is modern and contemporary French cuisine with Italian influences. Her favorite thing to cook is a French macaron.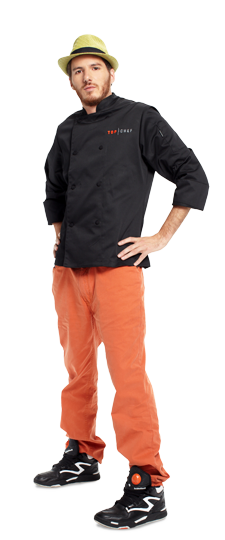 Spike Mendelsohn first competed on Top Chef: Chicago season four, where he was sent home just shy of the finale and came back to compete on Top Chef All Stars season eight. Spike will next appear on "Life After Top Chef," where cameras venture outside the "Top Chef" kitchen for the first time. Growing up in St. Petersburg, FL and Montreal, Canada, where his parents owned and operated a restaurant, Spike knew he wanted a career in the culinary world at an early age and attended the Culinary Institute of America. He went on to train in classic French cuisine in restaurants around the world including Gerard Boyer at Les Crayeres, Thomas Keller at Bouchon, and The Maccioni Family at Le Cirque. Being part of a food industry family, Spike put his dream of venturing out on his own on hold to work in the family business. In 2008, he was integral in opening the family's popular Capitol Hill award-winning burger joint, Good Stuff Eatery, which has been frequented by the First Family on several occasions. In the summer of 2010, they opened another Capitol Hill restaurant, We, The Pizza. This year, Good Stuff Eatery expanded with new locations in Crystal City, VA and the popular Georgetown section of Washington D.C. Spike's first cookbook, The Good Stuff Cookbook, features American comfort food classics and favorites that are just right for the home cook.

Yigit Pura won Top Chef: Just Desserts season one. His culinary training in pastry began at age 4 in Ankara, Turkey, where one of his fondest memories is of his mother making him a big spoonful of dark caramel. His first job in the States was in the pastry kitchen of three-star San Francisco restaurant, The Meetinghouse, where he worked under mentor Joanna Karlinsky. He went on to work in San Francisco's Postrio and Gary Danko before moving to New York, where he held positions at the famed Le Cirque 2000, the five-star, five-diamond Four Seasons Hotel, and the world-famous Restaurant Daniel. He later moved on to Las Vegas' Daniel Boulud, where he held the position as Executive Pastry Chef. In 2007, Yigit joined Taste Catering & Event Planning, and most recently he opened Tout Sweet Pâtisserie, a high-end pastry shop located in San Francisco's Union Square. In 2011, Yigit was twice featured as the celebrity chef for President Obama, served as Gala Chef at the James Beard Foundation Awards, and showcased at the world famous Annual Pebble Beach Food & Wine Festival. Also that year, he was a presenter at the GLAAD Media Awards and served as Celebrity Grand Marshal at the San Francisco Pride Celebration and Parade. He was recently named "Top 40 Under 40" in The Advocate, as well as one of Out Magazine's "Out 100," which recognizes influential LGBT people and community allies.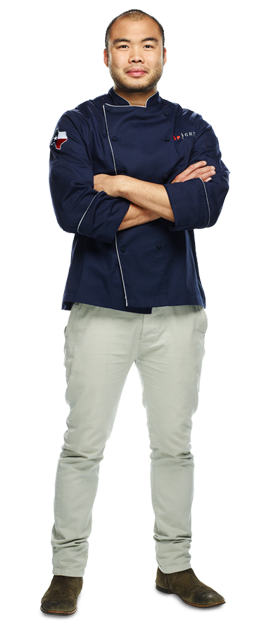 Paul Qui, winner of Top Chef: Texas season nine, began his culinary career in Austin, Texas at Uchi, a Japanese farmhouse dining and sushi restaurant, in 2003. He was so inspired by Chef Tyson Cole that he decided to work for him for free, and after nine years there, he progressed to become Chef de Cuisine and ultimately opened Uchiko as Executive Chef in 2010. That same year, Paul was nominated for the James Beard Rising Chef award, and Uchiko was nominated for Best New Restaurant. During his tenure at Uchi, Paul met Moto Utsunomiya, a blues musician, sushi chef and longtime friend of Cole. Together they founded the East Side King food truck in 2009. Starting as a side project, with no set hours, East Side King eventually flourished to three locations behind local dive bars and has been lauded to critical acclaim. In 2012, the City of Austin granted Paul a Key to the City and declared April 6 to be "Paul Qui Day." Also in 2012, Paul won the James Beard Foundation Award for Best Chef Southwest and the Rising Star Chef award from Star Chefs. He is currently working on his own restaurant concept and will also open two brick and mortar East Side King locations in Austin by Spring 2013.
Hosea Rosenberg, winner of Top Chef: New York season five, hails from Taos, New Mexico and currently resides in Boulder, Colorado. While pursuing his Bachelors of Science in Engineering Physics from the University of Colorado, Hosea worked at a variety of restaurants from diners to fine dining establishments. It was only after graduating that he realized he wanted to change course and become a professional chef. Hosea's passion to cook drove him to work his way up the restaurant ranks, where he worked under the guidance of established chefs such as Wolfgang Puck, Kevin Taylor, Sean Yontz and Dave Query, ultimately landing his first head chef position just three years later in 2001. Hosea has won numerous awards and accolades over the course of his career including Best Chef of Denver International Wine Festival; seven-time, undefeated winner of the Flatiron Chef Competition; and serving as Guest Chef at the James Beard House in 2007 and 2012. Since leaving Jax Fish House, where he served as executive chef for six years, Hosea has taken his culinary skills beyond the walls of a restaurant. In 2010, he joined forces with branding expert Laura Rice to launch StrEAT Chefs, a food truck concept that showcased global street food. Most recently, he opened Blackbelly Catering and Blackbelly Farm. The full-service catering company utilizes the organic produce and livestock raised at the farm. Blackbelly has quickly established itself as the premier catering and events company in Boulder and Denver.
Angelo Sosa made it to the final three competitors in Top Chef: DC season seven, and came back to fight for the title in Top Chef All Stars. Born in Connecticut to a Dominican father and an Italian mother who believed meals were serious affairs, Angelo graduated with High Honors from the Culinary Institute of America in 1997, after running the kitchen at the Escoffier Room, one of the institute's highlight acclaimed restaurants. After a stint as Christian Bertrand's sous chef at the four-diamond Stonehenge Restaurant & Inn and Acqua, Bertrand referred Angelo to work at four-star Restaurant Jean Georges, where he met his mentor, Jean-Georges Vongerichten. Angelo went on to work for him at Jean Georges, Dune and Spice Market, where he learned the merits of simplicity and a staunch four-star mentality to uncompromising excellence. Shortly thereafter, Angelo was invited by Alain Ducasse to create a special seasonal menu at his Paris restaurant, Spoon Food & Wine, the first American to receive such an honor. Angelo has also consulted for Stephen Starr's NYC restaurant Buddakan, Morimoto, Asian-Mediterranean hot spot LOFT, the iconic Malibu Inn, SmithHouse Tap & Grill, among others. In 2009, Angelo launched his fast-casual restaurant Xie Xie ("thank you" in Mandarin), which won him StarChef's New York's Rising Star award for "Best New Restaurant Concept." In 2010, he launched NYC's Social Eatz, for which he designed a menu that reinterprets NYC staples with flavors from across Asia. Within just seven month of opening, the restaurant won Eater's "Greatest Burger in America" competition for Angelo's creative Bibimbop Burger. He has also recently launched the industry-acclaimed Anejo Tequileria y Restaurante in NYC's Hell's Kitchen, serving modern takes on traditional Mexican tastes that complement the restaurant's tequila list.
The executive chef at Shinsei Restaurant in Dallas, one of the most successful in the state, Casey's cuisine incorporates Asian and Mexican cultural influences. This rising star lives by a simple yet time-tested cooking philosophy -- serve food that people want more of. Casey names tartare the most romantic dish because it's raw, risky, ice cold and delicious. Her outgoing and confident manner "served" her well on Top Chef.
Fabio Viviani won over America with his Italian accent and suave yet gregarious nature on Top Chef: New York Season 5, and while he didn't win the cooking competition, he did win the title of Fan Favorite. He came back to compete on Top Chef All-Stars season eight bringing his Italian classics back to the kitchen. Born and raised in Florence, Italy, Fabio's culinary career began at the age of 11 when he started working in a bakery from midnight to 7 a.m. every night. At age 14, he began working at the Italian Florentine iconic restaurant "Il Pallaio," and became the restaurant's sous chef at age 16. He then attended culinary school and traveled across Europe, training in classic Italian and European cuisine. Fabio is now the Owner and Executive Chef of Café Firenze in Moorpark, CA and Firenze Osteria in Toluca Lake, CA, and will soon open an Italian concept in Chicago, IL. Fabio has published two successful cookbooks also a regular contributor for websites and magazines worldwide, his second book, featuring his hundred-year-old family recipes, is due out in 2013. Fabio has involved himself with global food festivals, morning show appearances, charity events, the award-winning web show, Chow Ciao, and multiple partnerships.
Brooke is a self-taught chef who started her culinary career at age 15 as a teacher's assistant at the Epicurean Institute of Los Angeles. At age 18, she started working as a pastry assistant at Fenix at the Argyle Hotel, and was soon noticed by Chef Ken Frank, who invited her to work in the savory kitchen. Brooke moved onto the acclaimed restaurant Michael's in Santa Monica, where she became Sous Chef within a year. After a brief internship at the celebrated restaurant Daniel in New York, Brooke returned to Los Angeles, where she was appointed Executive Chef at Boxer and later Zax. During her tenure at Zax, she was heralded by The Los Angeles Times as a "culinary wunderkind," and was also the youngest chef to ever cook at the James Beard House. Brooke left Zax to open Amuse Café and Beechwood with husband Nick Roberts, where she earned the title "Rising Star Chef" by StarChefs.com. In 2009, they opened American gastropub Hudson House, and most recently The Tripel. When she's not calling the shots at her restaurants, she can be found spending time with her family, running, hiking, traveling, or wandering around the farmer's market.