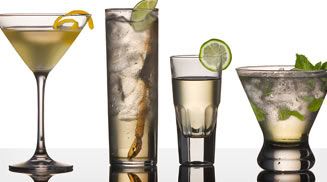 UPDATED 3/29 - THE BEVERAGE PACKAGE IS NOW CLOSED. IT CAN STILL BE PURCHASED ON BOARD
The combination of Top Chef & Celebrity Cruises means an unmatched culinary experience. It also means that you are going to need plenty of palate cleansers to fully appreciate the varied flavors. To truly make Top Chef: The Cruise an all inclusive experience, Rose Tours is offering a Premium Beverage Package for your convenience.
The Package includes: Celebrity's entire selection of beer, as well as spirits, cocktails, alcoholic frozen beverages, and wines by the glass up to $12 per serving. Also included is all canned and fountain soft drinks from Coca Cola, Premium Bottled Water from Evian, Perrier and San Pellegrino, Specialty Coffees and Teas, Non-Alcoholic Frozen Drinks and Smoothies, Red Bull Energy Drink and Specialty Waters from Vitamin Water.
The Premium Beverage Package is available for $255 per person and includes a 15% gratuity. You can add the package at anytime by logging into your account.
The first 250 guests who purchase a beverage package will receive a complimentary onboard wine tasting.*
* The beverage package includes drinks purchased in the dining room, buffet and at all bars. Room service drink orders will incur extra charges
** All of the spots for the complimentary beverage package have been filled. The Beverage package is still available to all guests.